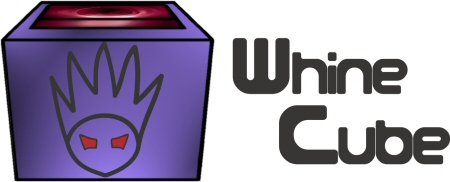 ---
October 15th 2008 - Release 8

Long overdue, here is, as promised, the source code to WhineCube. It is provided as-is, in hopes that it will be useful to other emulator authors.

If you have any questions or opinions, feel free to visit the forum or the IRC channel #whinecube on Efnet.


August 1st 2005 - New playable game

The second playable game has been discovered. It is Tetris Worlds, and there are screenshots. Enjoy!


July 26th 2005 - Release 7

It took a while, but now it's done. Aside from BAM being playable, there are also many other changes. Here are the most noteworthy:
Fixed many crash bugs.
Removed the need to have MSVCR71.dll.
Added DSP disassembler.
Vastly improved graphics emulation, using pixel shaders.
Changed window title to show game name instead of file name (GCMs only).
Added an option to turn debug logging off and on. It is off by default.
Added an option to disable the syscall instruction, enabling Freeloader and Action Replay.
Download and discuss. Oh, by the way, you might need d3dx9_25.dll. Just put it with the others.


June 17th 2005 - New screenshots

I've uploaded six new screenshots, showing off BAM3K, which is now fully playable, less sound. There are a few bugs left to fix. When that's done I plan to make a new release of WhineCube.


May 8th 2005 - Release 6

This is an interim release, a way to collect all the work I've done since the last release. I want to give a big heap of thanks to all the beta testers, without whose help I could not have done this.
Made several major internal changes.
Improved GP(3D hardware) emulation.
Added rudimentary memcard emulation. It is not yet directly compatible with memcard images formatted on a real Cube.
Added UART output emulation(OSReport).
Added Always on top option.
Download it here. Discuss it here.


July 15th 2004 - Release 5

This release collects a number of improvements:

Added software YUYV conversion and software vertex processing to increase compatibility with older graphics cards.
Fixed a bug where WhineCube would crash when Cancel was pressed in the Open dialog.
Added a debug output system for homebrew coders who test their stuff with WhineCube.
Added support for the GameCube Reset button.
A few demos that uses hardware 3D now work.
Added GCM booting. Note: no commercial games work yet.
Download it here.


June 27th 2004 - Release 4

Among the news:

Four configurable gamepads.
DMA sound buffering.
Improved vsync timing.
Download it here.


June 17th 2004 - Release 3

New in this version:

Texture dumping.
ELF loading.
Improved handling of unimplemented opcodes.

June 14th 2004 - Release 2

A new version of WhineCube is out, with a couple of bug fixes and improvements. Get it here.


June 13th 2004 - New demo

Added a demo by kurni to the Downloads page. Check it out, it's cool.


June 12th 2004 - WhineCube released!

This is the first public release of WhineCube.

This was supposed to be some big announcement thingy, but I've found that I don't have much to say. :} Anyways, it's out, you can download and play with it. Let me know if you like it.


---


Except where otherwise noted, content on this site is licensed under a Creative Commons Attribution 3.0 License.
---